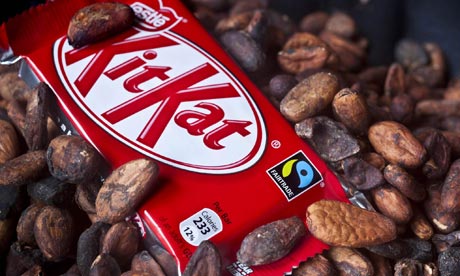 A couple of years ago Nestle registered its partners blend coffee as fairtrade, this amounted to just 0.2% of their coffee sales but made them a fairtrade coffee producer. For the rest of the farmers who are not part of the scheme, they are still subject to relentless driving down of prices- synical greenwashing if ever I saw it. Now they are at it again. Reports are that they are trying to register their four finger Kit Kat bars as fairtrade, but only the 4 finger ones because the 2 finger ones.... Ekklesia reports:


---Extract begins
Stop the Traffik say the good news is only partial, as this will only apply to their 'four finger' product.


'Two finger' Kit Kats and all of their other chocolate products "will continue to exploit the chocolate slaves of the Ivory Coast from where Nestlé source most of their cocoa" they said in a statement.
---extract ends


If Nestle were really committed to improving their impact on the world and peoples lives they could just bring up ethical standards accross the board - Every year there are still violations of the code on the marketing of babymilk - this is no minor detail, 1.5 million babies die every year from unsafe bottlefeeding.
Join me in Boycotting Kit Kats and other Nestle products ....